The Ski club Novinar has grown to this day into an exceptional organization that, based on decades of experience and with a still youthful zest, reminds us of the role of alpine skiing as a popular winter leisure activity, successfully increases the popularity of this sport, educates alpine skiing teachers and raises successful competitors.
The management and members of the Novinar Ski Association will therefore continue to advocate for:
the popularization of skiing among citizens, especially among young people;
progress in the development of skiing disciplines;
fruitful cooperation with professional organizations in the field of sports;
maximum degree of professionalism in their work;
respect for ethical and moral principles in the field of sports activity;
professional development of association members and exchange of domestic and international experts.
Ski club Novinar was founded in 1957 by Pavliha journalists. As befits true humorists, they even thought of a duck skiing as a joke for the logo of the association. The association is supposed to be just another journalistic duck, but it has been working very successfully in the field of skiing and sports in general for over 60 years.
"Račka" has been with us all the time in our logo, and recently a cute one has joined us mascot "Račka", who loves children very much. She likes to exercise, ski, rollerblade, dance or just have a little fun with them. Račka is fascinated by sports and wants to become a real role model for everyone and encourage them to become athletes themselves. Wherever you meet our Račka, she will gladly give you a high five, you can hug her and, of course, take a picture with her. Račka is also happy to visit kindergarten, school or anywhere where there are playful children and have fun with them.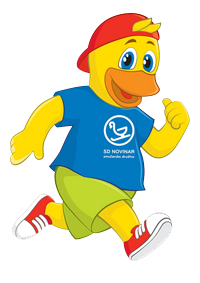 In 1957, the editorial office of Pavliha came up with the idea of ​​founding a journalist's ski club. The initiators were journalist - cartoonist Milan Maver and commercialist Jože Uršič. The original purpose of the association was to inspire as many journalists as possible to ski and thus take care of their recreation in winter. And it was established Ski club Novinar.
In the winter of the same year, a ski course was organized on Komna, led by Milan Maver. Courses in Kranjska Gora followed, but the most important were the ski trips, which were always massively attended. The number of members gradually increased not only from the ranks of journalists. Soon there was a need to establish a youth and pioneer selection, where already in the first years of the existence of the Novinar club, several hundred participated in the courses. Many of them became so enthusiastic about skiing that they started training regularly and became competitors. What was once just a ski club of journalist enthusiasts has developed into a successful competitive club of rising ski stars.
The Novinar ski club expanded its ranks irresistibly and achieved almost incredible successes both in the mass recreational and competitive fields. During the years of its existence, it became one of the most prominent clubs in our country.
Written by Jule Vrbič on the 20th anniversary of the club